Scientists have been using
modern technology
to examine The Antikythera Mechanism, generally regarded as the world's first computer.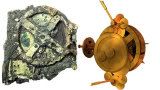 Abstract of ongoing research.
Much like in the natural world, we often see bits of technology developed independently, and it appears here once again we see a second, albeit eventually aborted genesis of computing technology. Makes me wonder what else might have been lost along the way.